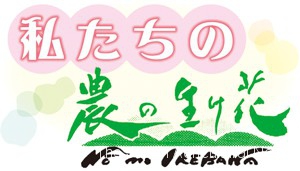 "I decorate the entrance with a Noh no Ikebana arrangement to welcome my guests. Until 1999, my family used to run a dairy farm, so I often use milkers as my containers. My favorite materials are burdocks, carrots, Chinese cabbages and other vegetables that I grow for my family.
I've been doing Noh no Ikebana for about 20 years. Whenever I find vegetables in unique shapes, I get excited and start thinking how I can use them in my arrangements. My husband also gives me an idea when he finds vegetables in funny shapes. That way, I want to respect individual characters of each piece of the vegetables.
For this arrangement, I chose sprouting vegetables and yangyou (a classic tool designed to plow hard soil) in order to express how the life springs from the soil. I let the potatoes sprout and grow to this length to show the power of the soil. Bamboo shoots are making the whole arrangement dynamic. Each of them is cut in a certain shape so that it can sit nicely in the rice mortar.
<Containers and tools> a rice mortar, yangyou, and a bamboo basket
<Materials>  bamboo shoots, wheat, baby taro root stems, radishes, potatoes, and spring onions