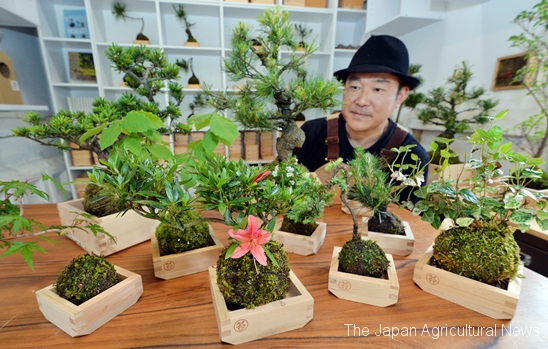 A bonsai-style moss ball arranged in masu, a traditional wood container for drinking sake,  is now becoming one of the popular interior items both in Japan and overseas.
MASUMOSS, it's called and is produced by Green's Green, a company that transformed a land which was once abandoned in Niigata town, Niigata Prefecture, to a moss production field. A small plant such as Goyomatsu Japanese white pine tree and Korin Satsuki azalea is planted in a moss ball, which is made of moss planted on non-woven fabric, and placed in masu, which is made of wood grown in Gifu Prefecture.
It debuted in 2015 at an interior design trade show in Paris and its sales started with exports to mainly Europe and the U.S and later in Japan in December 2017. So far, approximately 3,000 MASUMOSS were sold globally.
Yasunari Sato, a 48-year-old director of Green's Green, said, "We came up with the idea (of producing MASUMOSS) to combine two products that have made Niigata famous, sake Japanese rice wine and horticultural crops. We also want to sell them to younger generations and non-Japanese people."
MASUMOSS can be purchased for from JPY 3,000 (plus consumption tax) or rented through the company's website.