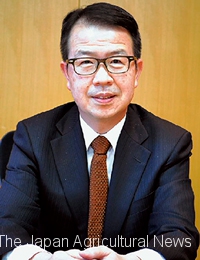 TOKYO, Jan. 9 – As Japan External Trade Organization (JETRO) focuses on pushing exports of farm produce and food products, its executive vice president Mitsuhito Sendai said it is important to help raise farmers' income through boosting exports.
In an interview with The Japan Agricultural News, Sendai stressed that JETRO will take measures to support efforts to further promote exports amid the COVID-19 pandemic, based on successful cases.
He said he believes it is possible for Japan to meet the government's target of exporting agricultural and food products totaling 5 trillion yen in 2030, adding that the nation may be able to export 10 trillion yen, considering the increase in exports last year. The farm ministry announced in December that the exports between January and October last year totaled 973.4 billion yen, up 28 percent from the same period a year before.
But he noted that a great amount of effort must be devoted to realize the goal.
What is more important than raising the value of exports is to make farming more profitable through exports, he said.
JETRO's support measures include helping farmers and dealers who feel there are hurdles to exporting and encouraging them to try shipping products overseas.
Until now, JETRO has mainly been assisting those taking part in trade fairs, as dealers who come to such fairs are eager to promote their products and are more likely to succeed in signing new business deals.
However, it would be impossible to raise such opportunities by five times in line with the goal of boosting exports by five times. It is necessary to come up with new measures, also taking into consideration the COVID-19 pandemic, Sendai said.
It is extremely important to launch a system that enables those with little exporting experience to focus more on overseas markets, as well as expanding digital projects for remote transactions, he said.
JETRO's strength lies in its network of branches in all of the 47 prefectures nationwide and 76 overseas offices. Using this network at home and abroad, it finds items needed in foreign markets and looks for products within Japan that meet such needs.
It also promotes domestically-produced items in foreign countries through its overseas offices, and is expanding its e-commerce business.
It attaches importance to exchanging opinions with concerned parties on the 27 key export items designated by the government. In October last year, JETRO organized a meeting with organizations handling the key items for the first time and received various suggestions to facilitate exports of agricultural and food products.
To increase overseas fans of Japanese products and broaden markets, Sendai said JETRO plans to strengthen cooperation with the Japan Food Product Overseas Promotion Center set up within JETRO.
JETRO allocated some 4 billion yen for the current fiscal year on projects to export agricultural and food products. It offered assistance to 4,000 cases and contributed to signing export contracts totaling 29.4 billion yen.
Sendai said the organization will continue focusing on supporting export expansion in the next fiscal year by securing sufficient budget.