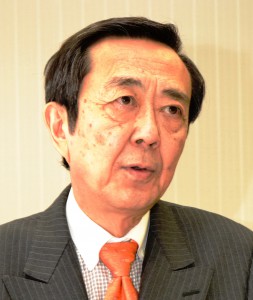 <As debate heats up over reforming agricultural co-operatives, the Japan agricultural co-op group and Liberal Democratic Party lawmakers close to the agricultural sector are strongly offended by the government's stance to radically reform the JA group's auditing system and non-farmer members' use of JAs' services. Following is an interview with Shinji Hatta, professor of Aoyama Gakuin University's Graduate School of Professional Accountancy, regarding the points at issue.>
Agricultural co-operatives' auditing system has become the focus of debate over reforming the JA group, but the issue is being discussed without any input from accounting experts. I totally disagree with government officials who say that auditing by the Central Union of Agricultural Co-operatives (JA-Zenchu) is hindering primary JAs' freedom in managing their business. I assume the officials cannot establish a future direction for the issue because they only have a negative image towards auditing, that it is a means to forcibly inhibit JAs from running business with more freedom.
We cannot expect business operators to maintain sound management if they are allowed to go unchecked without discipline. Organizations need both autonomy and discipline, and auditing is what secures their discipline. Stakeholders will be convinced that business dealings are conducted in a fair-minded manner only if a third party verifies them through auditing. The management can also feel confident in doing business, as the process proves that they are not engaged in any unlawful doings or scandals. Auditing is a constructive verification process.
In the Japan Revitalization Strategy revised in June last year, the government stresses the need to enhance corporate governance in order to strengthen companies' earning power. For JAs to aggressively expand their business, they should establish strong governance as a necessary precondition. Since JA-Zenchu's auditing supplements JAs' governance by verifying the appropriateness of their business operations, weakening the system would only hinder their growth potential. It can also run counter to the government's goal of making the agriculture sector a growth industry.
Major companies' scandals involving accounting fraud surfaced in the beginning of the 21st century, starting with the case of then Enron Corp., and the role of auditing as a means to uncover unlawful practices rose. Auditors are increasingly required not only to prove the reliability of financial accounts but also to take the supervisory position to secure sound management and avoid wrong doings.
Currently, certified public accountants conduct financial audits only, but experts have begun research on the so-called "integrated audits" which cover both financial and operational auditing. Audits by certified public accountants are also under constant review in line with changing needs of the society. Meanwhile, JA-Zenchu has been conducting a package of financial and operational auditing as well as functioning as a supervisor for primary JAs. The system deserves recognition.
Some say that primary JAs' auditing should be conducted by outside accountants like listed firms, and such claims certainly sound reasonable. However, there do not seem to be any verification done on whether primary JAs' governance can really be maintained only with financial audits, or whether they can secure within themselves personnel well-versed in governance. Unless such problems are all cleared, primary JAs could suffer irreparable damage.
The government is trying to drastically reform JA-Zenchu's auditing system, but in order to correspond to the fast-changing socioeconomic conditions, what is more important is to constantly review the system to see whether it is in line with the co-operatives' objectives and continue making improvements.
(Interviewed by Hayato Niki)
<Profile> Born in 1949, Shinji Hatta studied economics at Keio University before pursuing a doctorate in professional accounting at the university's faculty of business and commerce. He serves as professor at Aoyama Gakuin University's Graduate School of Professional Accountancy since 2005.  He also acts as chairman of the Japan Internal Control Research Association and former chairman of the Japan Auditing Association.
(Jan. 22, 2015)