Fifteen girls have teamed up as a group to help strawberry promotions all over Japan. The name of the group is "Miss ichigo (Miss Strawberry)."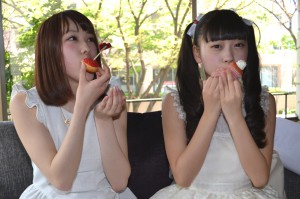 A kick-off meeting was held on April 18, 2015, at a hotel in Shinjuku, Tokyo, where the girls thoroughly enjoyed all kinds of strawberry cakes prepared by confectioners. The project is produced by Yutaka Saito, 44, president of Little World Inc. and a planner specialized in the sixtiary sector. At Little World, he organizes events and outlets for
food and food distribution services. "We'll hold events at strawberry farms and deliver video contents featuring Miss ichigo on the Internet in order to add value to strawberries," he stressed. At the events and on movies on the Internet, Miss ichigo will show various recipes for strawberry dishes, programs on strawberry tasting, etc.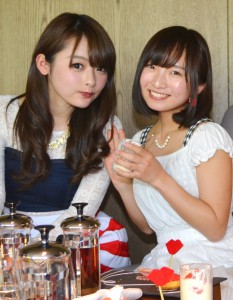 The team "Miss ichigo" consists of 15 winners of the auditions, in which 2,700 contestants took part from all over Japan. They are in an impressive lineup from high school students to TV talents, models and nurses of the age ranging from 13 to 25.
The idea of having the auditions came from a strawberry fan club "Strawberry Alliance (official web site: http://www.ichigo-doumei.com/)" which is also organized by Little World. National Federation of Agricultural Cooperative Associations supported the auditions in corporation with the Kumamoto Prefectural Economic Federation of Agricultural Cooperatives (JA Kumamoto Keizairen).
Rina Maruyama, 14, enjoys growing planters of strawberries with her family and said that she is going to show how to grow them through the video on the Internet.
Saito is also a music content producer and recently extending his business to the food industry. So far he's produced some restaurants that serve both food and amusement including the AKB48 Official Cafe & Shop. So he is confident in the Miss ichigo project. "The girls are so cute (kawaii), fresh and glowing with energy, and match the image of red fresh strawberries. I'd like to make strawberries even more popular making use of the ideas of the youth. It's my dream to make people feel more familiar not only to strawberries but also to the agricultural industry," he said.
(April 19, 2015)