Kazuhiro Eguchi
– Peach Garden Wedding (Fuefuki-shi, Yamanashi Prefecture) –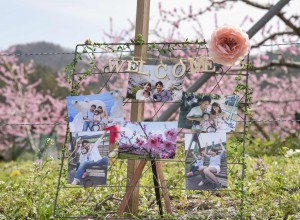 If you want to make your wedding something very special, how about getting married in Fuefuki-shi, Yamanashi Prefecture, surrounded by peach flowers in full bloom? It's a "Peach Garden Wedding" proposed by farmers in Japan's famous peach-growing town and a non-profit organization (NPO), Fuefuki Shunkan Net.
The town of Fuefuki is located on the east of the Kofu basin and has a delta that stretches from Mts. Misaka and is formed by the Fuefuki River. The "Peach Garden Wedding" can take place in April when the town filled with peach gardens turns pink as hundreds of thousands of peach flowers bloom at once, making your wedding day the most memorable day in your life.
The whole ceremony is produced by the NPO that promotes the use of agricultural assets of the town for regional development, with the full support of the local peach farmers who offer the venue.   On April 12, 2015, Jumpei, 32, and Akina, 29, Nakajima got married in the peach garden. Being one of many couples who dream of outdoor weddings, they looked so happy surrounded by the peach flowers in full bloom.
The happy pair walked up the aisle with its 4-years-old daughter Mio, pledged its undying love, and cut a wedding cake with a lot of fresh peaches on top. Its guests are also treated to specialties of the town – peach juice and peach wine. In tribute to the name of the town which literary means horn (flute) players, flute players joined the ceremony to enchant the couple, its families and the guests. "What makes it so special is that I can visit the garden again with my family to think back on this beautiful day," said Akina with a smile.
The first "Peach Garden Wedding" took place in 2010, but the weather does not always cooperate with outdoor weddings and Jumpei and Akina were only the second couple to put their names on the list of lucky pairs. Hideki Ogawauchi, NPO director, said, "We'd like to put a lot more work into the development of unique programs including the Peach Garden Wedding to bring more attentions to the beauty of Fukefuki-shi and its beautiful mountains and farmlands."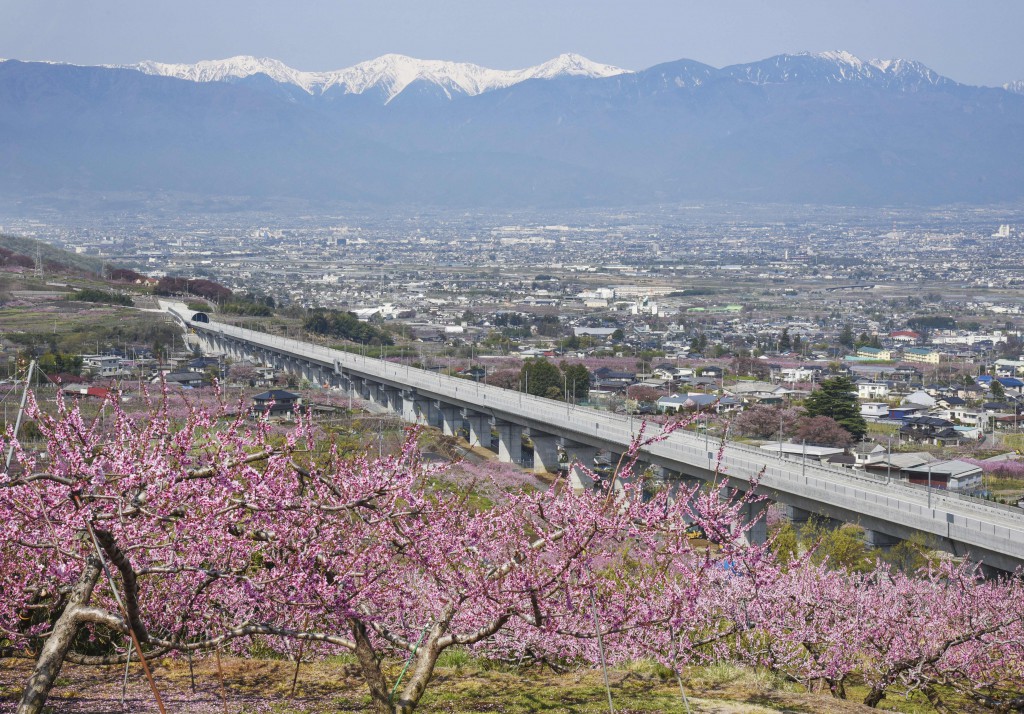 (April 19, 2015)