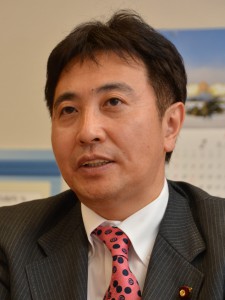 Q. How do you evaluate the government's shift in agricultural policies?
A. Since they are too drastic, some farmers are expressing worries about their future. Reform is necessary, but it should be a step-by-step process in order not to leave farmers at a loss. It should be a "bottom-up" reform which reflects the voices of individual farmers rooted in regional communities.
Halving the amount of direct payment to rice growers will have a huge impact especially on farmers specializing in rice farming, and it will hinder their efforts to expand their scale of farming. Subsidies for producers of rice for livestock feed are increased, but measures to boost demand for such rice and improve distribution systems and other necessary facilities remain insufficient. What is more, the new policies are not sufficiently explained to farmers.
Prime Minister Shinzo Abe is putting too much emphasis on creating a "strong agricultural industry." We can't see the blueprint of what will happen to small-scale farmers and farmers in hilly and mountainous regions. Moreover, it is of course important to increase exports overseas, such as to wealthy people in China, but we should not forget about the significance of maintaining Japan's food self-sufficiency rate, which leads to the question of how to provide the minimum necessary food for the Japanese people.
Q. Then, what would be the counterproposal to the government's plan?
A. The best policy would be the individual-household income compensation. Even if the government does not establish a Japanese-style direct payment system, farmlands can be maintained if farmers' businesses are supported. The government's rice production adjustment system has been functioning although some farmers virtually "chose" to produce more rice than the allocated amount although this meant they would not be able to receive subsidies. Structural reform can be implemented gradually. 60 percent of the subsidies are provided to farmers with 2 hectares or more of lands, which occupy only 10 percent of farmers nationwide, so they cannot be described as dole-out measures.
People's Life Party has already submitted a bill on individual-household income compensation jointly with the Democratic Party of Japan and the Social Democratic Party. We hope to discuss the bill in the Diet sessions in comparison with the government's agricultural reform-related bills. It doesn't matter whether you belong to the ruling party or opposition parties when discussing agricultural policies. Based on bills submitted by both the ruling and the opposition bloc, we must aim for the best possible system for farmers.
Q. What do you expect from the government concerning the negotiations under the Trans-Pacific Partnership free-trade talks?
A. The government should meet the resolutions adopted by the agricultural committees of the upper and lower houses of the Diet, and refuse to compromise even an inch in the negotiations. As stated in the resolutions, we do not accept any tariff eliminations, including phaseouts over a long period of time. Even abolishing tariffs on prepared or processed food products can mean a small leak which would sink a great ship. We are also concerned over insufficient disclosure of information, because we cannot check whether the negotiations are made in line with the resolutions.
Interviewed by Takanori Okabe
(Feb. 4, 2014)