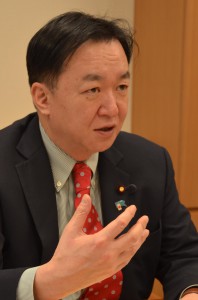 Q. How do you evaluate the government's agricultural reform?
A. Japan has been limiting sales of rice to domestic markets and maintained rice prices by adjusting domestic rice production. Such production control policies should be changed. We agree to the government's policy of revising its rice production adjustment, but it must be coupled with measures to mitigate its negative effects. The key to reform is whether farmers, agricultural organizations, food product firms and consumers can come to consensus on the policies.
Q. Can you elaborate on specifics?
A. It is good to encourage production of rice for livestock feed, but there are differences in the demand for feed according to regions. Potential nationwide demand for feed is 4.53 million tons, out of which the Kyushu region, for example, occupies 1.52 million tons. The Tohoku region occupies 820,000 tons, but more than half of the demand is in Iwate Prefecture, and there are prefectures with little demand. It will be difficult to find buyers of rice for livestock feed if you don't carefully consider regional differences. It is necessary to reduce costs as much as possible, such as through producing rice in regions which have compound feed manufacturing plants. We need to consider whether the policies should be uniform nationwide.
Policies on farmland consolidation banks need more discussion, considering that it would be difficult to find borrowers of the lands. We hope the government will explain the policies to farmers several times and implement the policies carefully. We will call on the government during the Diet sessions to allocate sufficient budget.
The government should also work on expanding exports of agricultural products including processed foods. As a part of nationwide efforts to increase sales of Japanese sake, more farmers need to engage in contract farming to sell rice to sake makers. The government should offer assistance to rice and fruit growers entering processing and export businesses, because investments are needed for equipment such as fumigation facilities and refrigerated warehouses. We hope agricultural cooperatives will also offer active support to facilitate exports.
Q. How do you think the government should deal with negotiations under the Trans-Pacific Partnership free-trade talks?
A. The problem is that the details of negotiations are not disclosed. The Diet's role isn't only ratifying the concluded agreement. The negotiations can be confidential, but information should be made available at least to the agricultural committees of the Diet. We want the government to negotiate in a way which will encourage farmers to continue farming.
Q. What should be included in the government's new basic plan for food, agriculture and rural areas?
A. If the government hopes to double the incomes of farmers and farming communities, it should establish a business model which takes in ideas from other industries to support farmers who are willing and able to succeed. It is also necessary to create high value-added products which meet consumers' needs. It is important to raise the food self-sufficiency rate, and in order to do so, consumer understanding and support are inevitable.
Interviewed by Shunya Kimura
(Jan. 31, 2014)