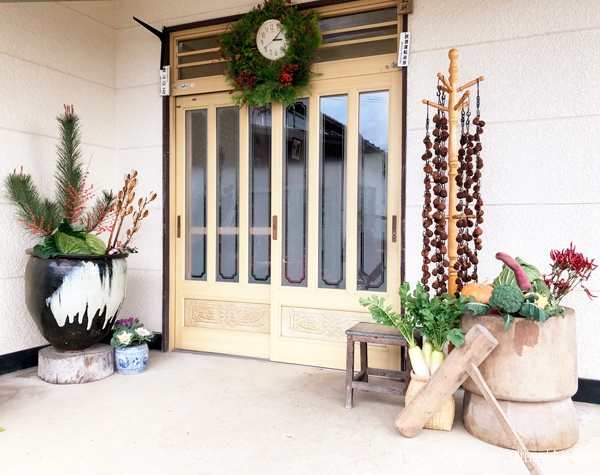 IWATE, Dec. 18 – People are trying to cheer up themselves and others by preparing special new-year celebrations while the pandemic continues. Ikuko Kikuchi in Kitakami City, Iwate Prefecture, put her every thought into her new-year arrangements at home to wish that the new year will be peaceful and that she can invite someone home again.
・Demonstrating her omotenashi-mind inside and outside
"The theme of the arrangements is 'Welcome to our home!' I made three arrangements for the entrance to express my wish to welcome my guests.
I put a fresh-picked cabbage, a head of broccoli, and other vegetables in a mortar. By doing so, I want to show that I wish I could serve home-made dishes made of fresh-picked vegetables.
I put daikon radishes in a bamboo basket that we call hakigo to show the freshness of their leaves. To make the arrangements look three-dimensional, I hanged dried persimmons on a pole hanger."
<Containers & Tools> (right) a mortar and a pestle, a hakigo bamboo basket, a ladder, and a pole hanger/(left) a water basin and a brazier
<Materials> (right) Several kinds of pumpkins, a head of cauliflower, sweet potatoes, a Chinese cabbage, red turnips, chili peppers, dried persimmon, etc.
・Things from daily livers look great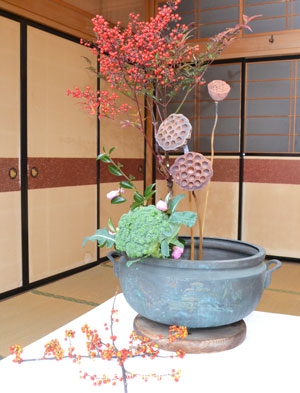 Kikuchi first met Noh no Ikebana when she was a member of the local agricultural development and extension association. In 1986, she heard that the founder of Noh no Ikebana, Toshie Yokoi, was planning a visit to Iwate. So, she invited her to the association and asked Yokoi to have a lecture for female farmers, including Kikuchi.
"Yokoi said things from our daily lives would look great (in Noh no Ikebana). You don't have to have something special, she also said. I was so impressed," Kikuchi recalls.
Since then, Kikuchi enjoys walking around and find materials for her arrangements.
She chose good-luck materials like nandina and lotus as the main motifs of this arrangement at home to express her wish for the quick ending of the Covid-19 outbreak.
<Containers & Tools> A hibachi brazier
<Materials> Nandina, Camellia sasanqua, a heard of broccoli, dried lotus flowers, etc.