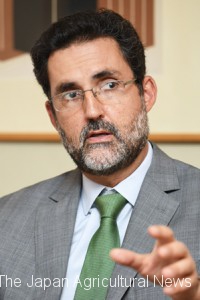 TOKYO, Oct. 20 – Brazil intends to expand exports to Japan, using the consumption tax hike in Japan as a boost. The strengths of the largest exporter of chicken meat to Japan are affordable prices and stable supply. In an interview with the Japan Agricultural News, Eduardo Saboia. Ambassador of Brazil, explained how the country is going to deal with the challenge while other exporters, including trans-Pacific Partnership Agreement (TPP) member countries, try to slash the tariff rates via trade agreements with Japan.
Focus on chicken export to Japan
Brazil is already a stable source of chicken meat for Japanese consumers, according to Saboia. "Brazilian chicken accounts for 80% of Japan's total import chicken meat. The country has been successfully preventing an outbreak of a bird flu. We have thorough sanitary management systems installed in our chicken breeding facilities," he explained. "Being a big country, we can increase feed and chicken production even further." "This way, we want to meet the demand for chicken in Japan and expand the export." Its production capacity is higher than the TPP participating countries, he added.
Seeking for win-win relationship with Japan
Japan is currently promoting the TPP, the U.S.-Japan trade agreement, and the Economic Partnership Agreement (EPA) with the European Union (EU) to cut or eliminate tariffs. According to Saboia, Brazil also feels the high need to begin talks with Japan on the tariffs on chicken and other products and on trade agreements. "The agreement should benefit both Brazilian producers and Japanese consumers," he emphasized.
"We have a keen interest in agricultural export to Japan. Some farmers grow special Japanese tea leaves for consumers in Japan. Agricultural products from Brazil meet the needs of Japan's food-service industry. Furthermore, our products are different from the agricultural products from the EU countries, which are produced in a manner close to Japan and compete with Japanese agricultural products."
Rise in imports from Japan is welcome
The ambassador believes there is an opportunity to create a win-win relationship between the two countries. "Many Japanese immigrants and their children live in Brazil, and the Japanese food culture has already taken firm root in Brazil. It's easy for Japan to boost consumption of Wagyu beef and Japanese sake. We also want Japan to export diary milk products to Brazil," he said.
Hoping to start bilateral trade talks with Japan
Brazil is a founding member of the South American Common Market (Mercosur), which has reached an agreement with the European Union on a trade deal. It's also formed trade and economic agreements with several Asian countries and already started discussions with Singapore and South Korea. "Shortly, we want to start talks with Japan on EPA and conclude an agreement that can bring mutual benefits," he concluded.
About the massive fire outbreak in the Amazon forest, he said that the fires are not reported in the areas controlled by the government, which aims to strengthen the agricultural sector of the country. "It's a misunderstanding to say that the fires and the destruction of forests are caused by the governmental project that supports large-scale farmers operating in woods." he said. The government has sent troops to control the blaze, and the number of incidents is decreasing, he continued.
According to him, the fires are caused partly because of the illegal act of logging and burning by small-scale farmers in this extremely dry weather. Brazil has laws that ban such activities in the forests. So, our challenge today is how effectively it can educate small farmers in rural areas the importance of forest laws and environmental protection. Also, it's essential to crack down on illegal actions.