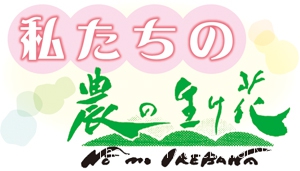 "It's been nearly 30 years since I started Noh no Ikebana.
We can find materials at home and our vegetable gardens and arrange them freely regardless of schools or styles, and that's why I'm doing it for such a long time with friends from a local Noh no Ikebana club. When we participate in prefecture exhibitions or local events, we share the materials and tools. Showing the arrangements with each other is fun.
I always place importance on the sense of seasons. I enjoy using dead plants as well, in addition to fresh vegetables and plants. This way, I can express the passing of the seasons. Dried hydrangea is one of my favorite materials. I love the shape, and I think they look gorgeous. So, I use them very often.
The theme of this arrangement is "Autumn Breeze." I tried to create a picture of wild plants swaying in the breeze. I chose fine-tipped spring onions and cute purple waremoko wildflowers and added beautifully-ripen red peppers to make it a bit more decorative. When I put it in front of the window, it'll blend in the autumn view from the window."
<Container>Pot cover
<Materials> Red peppers, spring onions, hydrangea, waremoko, botankusagi, African lilies, etc.