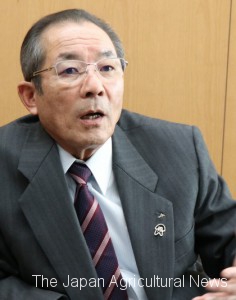 TOKYO, Feb. 8 – Toru Nakaya, chairman of the Central Union of Agricultural Cooperatives (JA-ZENCHU), visited the United States in January for the first time since assigned to the post in August, and held talks with leaders of U.S. farm groups to discuss issues concerning agriculture, trade negotiations and cooperatives.
In an interview with The Japan Agricultural News after the visit, Nakaya said U.S. farm groups were paying strong attention to bilateral or trilateral trade agreements, but remain uncertain about U.S. President Donald Trump's intention behind indicating the possibility of the U.S. returning to the Trans-Pacific Partnership framework.
Q. What were your objectives of visiting the U.S.?
A. Various issues exist between Japan and the U.S., including farm policy, trade of farm produce and cooperation between cooperatives. I wanted to visit the country as soon as possible in order to talk directly with leaders of agriculture organizations and cooperatives there and establish a trusting relationship with them.
Q. What did you gain from your visit?
A. I met with Rob Larew, Senior Vice President of the National Farmers Union (NFU) which is an association of family farmers, and talked with David Salmonsen, Senior Director of the American Farm Bureau Federation, the nation's largest farm organization. Both of them appeared to pay much attention to the North American Free Trade Agreement (NAFTA), the ongoing renegotiation of the U.S.-Korea FTA and what will be included in the new farm bill which will replace the Agricultural Act of 2014, rather than to the TPP talks.
I visited them right after Trump indicated he would consider rejoining the TPP deal, but they were still assessing the real intention behind his remarks and said we should wait and see. They didn't mention anything about the bilateral trade talks between Japan and the U.S. I also discussed with NFU Senior Vice President Larew the need to focus on multifunctionality in agriculture.
In a meeting with Martin Lowery, Executive Vice President of the National Rural Electric Cooperative Association (NRECA) who serves as a representative to the board of the International Cooperative Alliance along with myself, we agreed that we should step up activities to make people worldwide become aware of the values of cooperatives. He said the importance of cooperatives is little recognized among the U.S. public as well. (Note: NRECA represents cooperatives that provide electricity supply in rural areas which requires high investment but yields a low profit.)
Q. How do you think the Japanese government should respond to Trump's remarks on the TPP deal and reactions within the U.S.?
A. We are not sure of Trump's true motives and his remarks could change any time. The Japanese government should stay calm, but at the same time, remain determined not to make any compromises or accept demands for renegotiations of the deal.