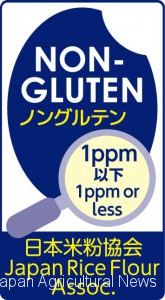 TOKYO, Jan. 14 — The Japan Rice Flour Association (JRFA) is introducing two new labels for rice flour products: Non-Gluten and Recommendation.
It aims to give consumers clarity and to capture an expected increase in demand for gluten-free products.
The JRFA, founded in May 2017, consists of Japanese flour millers and farmers.
As the incidence of gluten sensitivity and irritable bowel syndrome increases, the demand for rice flour as a gluten-free alternative to wheat products, such as bread and snacks, is expected to rise.
This has prompted the JRFA to make a move.
Last December, it created a standardization system that certifies gluten-free products. It is now in the process of selecting organizations that give certifications and aims to implement the system by March 2018.
The JRFA also designed two labels that certify gluten-free standards. To consumers, the label as "Non-Gluten" guarantees that rice flour contains less than 1 ppm or less gluten.
The allowance level is significantly more stringent than other countries such as the U.S. and the EU, both of which set at 20 ppm or less gluten.
Another label, "Recommendation" by the JRFA, is based on the Japanese agriculture ministry's labeling guidelines for top rice flour products.
The agriculture ministry last year established rice flour standards, which have a three-threshold by use: No. 1 as confectionary and cooking; No. 2 as bread; and No. 3 as noodles.