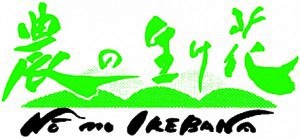 <"No no Ikebana" is an art of arranging agricultural products together with agricultural implements and other familiar instruments. It's a type of Ikebana but mainly for farmers. The series "Noh no Ikebana" will show you how to best feature the materials and containers you choose, with the help of fans of this style of Ikebana nationwide.>
Noh no Ikebana is something that stirs your imagination. To me, all vegetables look like cute animals, so I make penguins from egg plants and monkeys from chestnuts to include them in my arrangements. When I found Japanese radishes and carrots with two legs, I gave them headbands and put them in a row so that they look like holding a foot race. Or another day, I drew a face on a pumpkin and wrapped it with a handkerchief to make it look like a man with a traditional head covering for farmers. Kids and seniors always love them.
Now, Shiga Prefecture is famous for having one unique traditional food, crucian carp sushi or funa-zushi in Japanese. For my arrangement today, I chose a wooden barrel for pickling the local carps in salt and rice, rice stalks, and a tall bamboo basket for catching the fish, as the theme of the arrangement is Spring in Ohmi. (Ohmi is an old name for Shiga Prefecture.) Rice is indispensable for making funa-zushi, so I used rice stalks for the arrangement. What I put in a front basket is "Shinobu-negi" Japanese leeks, which is one of the local brand vegetables from the village of Koka once devoted to the training of ninjas. Their white part is so brilliant and beautiful, aren't they? With this arrangement, I want to show my love and respect toward the local cuisine.
<Containers> a wooden barrel, a tall bamboo basket , a flat basket, and a pitcher
<Materials> Japanese leeks, rapeseed flowers, konnyaku potatoes, bumpkins, rice stalks, branches with cocoon-shaped rice cakes, etc.
<profile>Yukiko Takenaga, 67, is an instructor of No-no-Ikebana at the women's association of an agricultural cooperative in Koka city, Shiga Prefecture (JA Koka) and a leader of No-no-Ikebana presentations at local art exhibitions. Her idea of making animals from vegetables and fruits are very popular among locals