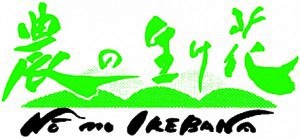 <"Noh no Ikebana" is an art of arranging agricultural products together with agricultural implements and other familiar instruments. It's a type of Ikebana but mainly for farmers. The series "Noh no Ikebana" will show you how to best feature the materials and containers you choose, with the help of fans of this style of Ikebana nationwide.>
For Noh no Ikebana, you are free to use old agricultural implements. It's also a good idea to combine several implements to highlight a central piece.
My advice to beginners is to combine two agricultural tools. By coupling one large tool and one small tool, you can ensure a good balance in appearance. If you want to highlight the big one, make it tall and wide and make sure that it looks appropriate in size.
Choose big agricultural implements in warm expansive colors to make them look even bigger and more impressive. In that case, choose small implements in primary or dark colors.
I used a large basket and jikatabi traditional work shoes that symbolize wheat treading work.
<Container> Large basket and jikatabi (a pair of split-toes cloth shoes)
<Materials> rape seed flowers and Japanese plum blossoms
<profile>Mitsuko Komiya, 68, began No no Ikebana in around 1980. She runs exhibitions with other No no Ikebana club members in Kanagawa Prefecture and enjoys seasonable arrangements at home.