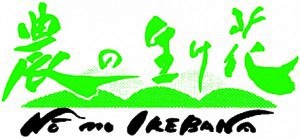 <"Noh no Ikebana" is an art of arranging agricultural products together with agricultural implements and other familiar instruments. It's a type of Ikebana but mainly for farmers. The series "Noh no Ikebana" will show you how to best feature the materials and containers you choose, with the help of fans of this style of Ikebana nationwide.>
Everyday tools and ordinary small flowers grew in your garden or vegetable fields are most suitable for Noh no Ikebana arrangements for living environment such as a corner of a traditional Japanese tatami room or a cabinet at an entrance.
For example, "mi" is a traditional basket used for winnowing. It will be a perfect container for Noh no Ikebana to show real life of farmers. It's useful as it can hold several types of materials.
The materials can be everything you find in your garden from persimmons and nandina to chrysanthemums. Please also use Chinese cabbages, pumpkins and apples to make your arrangement more attractive. Placing them not in the container but just on the side of it can broaden your arrangement.
<Containers and tools> winnowing basket, pitcher and thick straw rope
<Materials> persimmons, chrysanthemums, bumpkin, dried persimmons, etc.
<profile> Ikebana Club in Yamagata Prefecture which was established in 1992.