As many as 95 percent of heads of primary agricultural co-operatives said they don't think their freedom of management is hindered by the Central Union of Agricultural Co-operatives (JA-Zenchu), according to a survey conducted by The Japan Agricultural News on primary JA heads nationwide.
In the agricultural co-ops reform, the government is trying to dismantle JA-Zenchu, giving as a reason that its control on primary JAs is preventing individual co-ops from operating freely. But the result of the survey shows that primary JAs have totally opposite views, and they are likely to strongly resist reform which ignores their opinions.
The Japan Agricultural News sent a questionnaire via fax to all of the 694 primary JAs nationwide on Friday, Jan. 23, and received replies from 659, or 95 percent, of the JAs by Wednesday, Jan. 28.
The government's Regulatory Reform Council has called for the need to reform the JA group in order to give freer hand to primary JAs. Agriculture minister Koya Nishikawa also said primary JAs' auditing, which is currently conducted by JA-Zenchu, should be replaced with audits by outside accountants so that the JAs can be free of the central union's control.
However, an overwhelming percentage of the respondents said they don't believe their freedom of management is inhibited by the central union's auditing and supervision. Many of them criticized the government's agricultural co-ops reform as a move to baffle the JA group and farmers or an effort to weaken the group's organizational capability.
Only 2 percent responded that JA-Zenchu is restricting primary JAs' management, giving as reasons the fact that it doesn't accept suggestions and opinions from primary JAs.
Asked whether JA-Zenchu's auditing is taking away the sense of responsibility and self-awareness as managers from primary JAs' directors, 96 percent denied while less than 1 percent said they think so. 3 percent said neither yes nor no.
The agriculture ministry has explained at a meeting with Liberal Democratic Party members that not all primary JA heads are doing their job with a sense of responsibility and self-awareness as managers, and questioned whether they can maintain such awareness under the current situation where they receive audits, supervision and consulting every year from JA-Zenchu. Chief Cabinet Secretary Yoshihide Suga has expressed a similar opinion at a press conference, but the survey revealed that primary JAs have a totally different opinion.
<QUESTION 1>
Do you think JA-Zenchu's control is taking away freedom of management from primary JAs?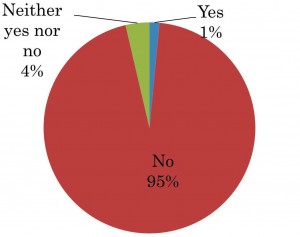 <QUESTION 2>
Do you think JA directors' sense of responsibility and self-awareness as managers are inhibited by JA-Zenchu's auditing?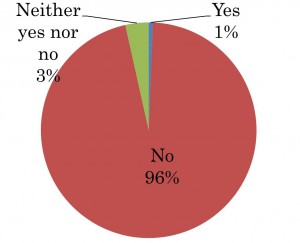 *659 primary JAs out of a total of 694 nationwide responded.
(Jan. 29, 2015)