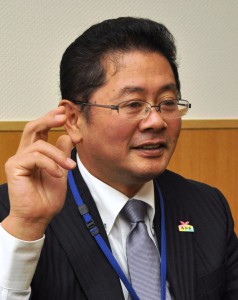 <As debate within the government and the ruling bloc heats up over reforming agricultural co-operatives, local governments which work together with JAs to revitalize the farm sector and their regions are concerned about how the reform would affect them. Following is an interview with Masahiro Nakahira, mayor of Shimanto in Kochi Prefecture.>
People and farmers in Japan's mountainous areas cannot imagine life without JAs' services. Private companies expand business in regions with huge population which would generate profits, but in less populated areas, JAs have been and will be the only entities which can offer services. And we should not forget the fact that the agricultural sector has a priceless value as it makes such contribution as farmland preservation.
I returned to my hometown, former Nishitosa village in Kochi Prefecture, to become an eggplant farmer when I was 30 years old. 99 percent of farmers in the village depend on JA to sell their products, because it is difficult for farmers in mountainous areas to sell directly to consumers or retailers. JA offers other support for those engaged in agriculture, such as delivering fertilizers and agricultural chemicals to elderly farmers. I was also helped a lot by JA's supervisors when I first started farming.
Some people suggest separating JAs' farming-related operations and financial business, but I think it is necessary to think of JAs' businesses as an inseparable package of services. Their sales business is something like investments. Farmers can make profits by selling their products through JAs' sales division, which will enable them to use JAs' other services. JAs' credit business, just because it is profitable, should not be discussed separately from other businesses. If it is separated from JAs, the JAs will not be able to support farmers' business. I am more certain about this point, now that I am involved in JA's management as a director.
It is also true that each of JAs' businesses has different characteristics. I think credit businesses should offer the same service regardless of regions, but ways of farming and selling farm products should vary according to different situations in each region. It is important for each region to come up with innovative ideas, not something stamped out like cookies.
When I was a farmer, I often attended meetings where farmers, local government officials and JA officials gathered to discuss agricultural business in the region. JA officials made their contributions by offering various ideas. Mergers of primary JAs are increasing, but I hope each JA branch will be given a free hand to certain extent so that they can provide services in line with different regional characteristics.
Auditing by the Central Union of Agricultural Co-operatives (JA-Zenchu) should definitely be maintained. JAs are headed by people representing farmers in each region, and it is important for JAs' management to be audited appropriately by an entity very knowledgeable about JAs. Therefore, it is necessary to protect the current system.
JAs should undergo changes, but I have doubts about the government making a headlong rush at reforming agricultural co-ops. JAs are owned by their members, so their views must be taken into account when making reforms.
As the agriculture sector faces various challenges, including the Trans-Pacific Partnership free-trade talks, plunging prices of rice and vegetables and a sharp rise in oil prices, local governments will work hand in hand with JAs to increase farmers' income. I expect JAs to take advantage of their organizational strength and work further on projects which cannot be conducted by individual farmers, such as reflecting farmers' views in shipping and pricing farm products.
(Interviewed by Daisuke Ishikawa)
<Profile> Born in 1956, Masahiro Nakahira began farming in former Nishitosa village in Kochi Prefecture and served as the village's head since 2003. In May 2013, Nakahira became the mayor of Shimanto, the city created in 2005 by a merger between Nishitosa and the city of Nakamura. He had been assigned to various posts in JAs, such as the head of a youth division and a director at a JA in former Nishitosa village and a director of JA Kochi Hata, established in Shimanto by a merger of 12 JAs in western Kochi Prefecture. He is also a farmer working on 1.2 hectares of rice paddies.
(Jan. 28, 2015)