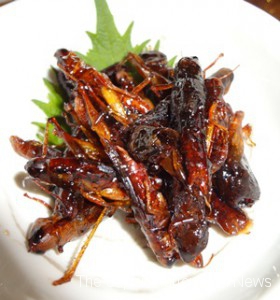 TOKYO, Jan. 10 – Insect eating, which has traditionally been common in Japanese rural villages, is recently drawing attention, with an exhibition held in Ina, Nagano Prefecture, and a pub in Tokyo offering dishes of edible insects such as grasshoppers. The United Nations' Food and Agriculture Organization (FAO) has also been promoting edible insects as the potential food source of the future.
Insects – popular menu item and important source of food to fight hunger
At Rice and Circus, an izakaya pub restaurant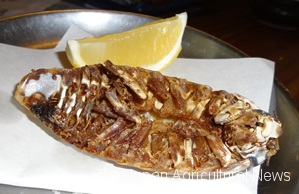 in Tokyo's Takadanobaba district which mainly serves game meat, many customers ask for a combo dish with six varieties of bugs. The dish, although priced rather high at 1,780 yen, proves to be quite popular, with many people impressed by the "unexpected tastiness" of the insects including grasshoppers simmered in sweetened soy sauce, fried diving beetles and giant water bugs.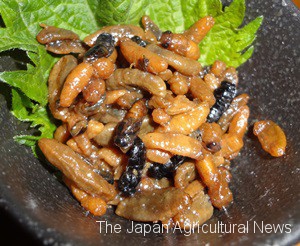 In the city of Ina in Nagano, with long history of insect eating culture, specialty shop Tsukahara Shinshu Chinmi is busy processing grasshoppers, bee larvae and stonefly larvae. "We are short of ingredients," the firm's official said. "Our sales have more than doubled in the past few years, but it is getting more difficult to obtain raw materials because of the aging of suppliers." The official said the firm started getting more orders in recent years following media reports that the FAO is advocating rearing of edible insects to be used as food.
In 2012, the FAO's technical consultation meeting concluded that insects not only serve as important sources of food and feed — with minimal environmental costs — but to contribute to alleviating malnutrition. Efforts are being made across the world to offer opportunities to taste insects and develop food products which contain nutrients from insects.
Nagano exhibition highlights insect eating tradition
In Ina, an exhibition is held at a community hall Sozokan until early May focusing on the insect eating culture in the area and around the world. Photographs, videos and resin-embedded specimens of edible insects are exhibited along with tools to catch them to show the tradition of insect eating which has been handed down in the region as a part of everyday life.
Visitors appear surprised to see images of local edible insects, such as grasshoppers, stonefly larvae, bee larvae and silkworm pupae, cooked and served on a dining table.
The exhibition will run through May 7 between 10 a.m. and 5 p.m. for free. The hall is closed on Tuesdays. For inquiries, call the hall at 0265 (72) 6220.