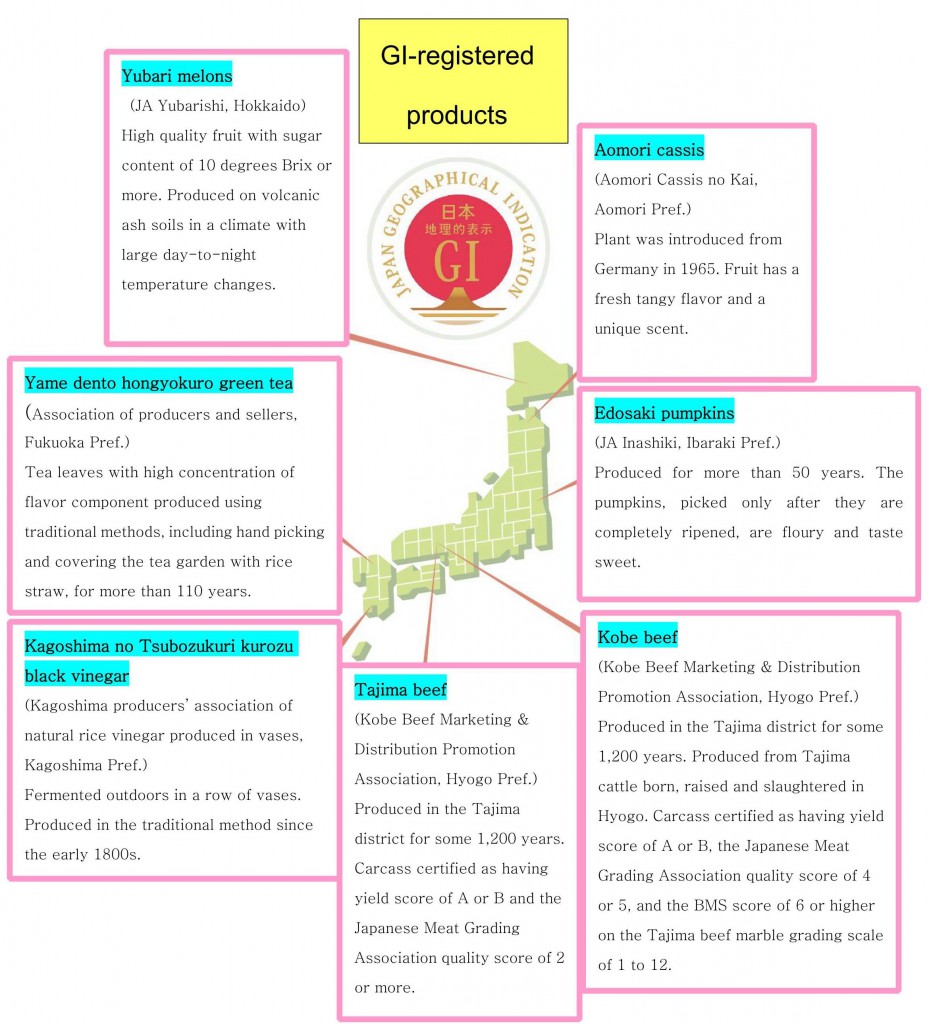 The government registered seven food items, including Yubari melons and Kobe beef, on Tuesday, Dec. 22, under the government's geographical indication system to designate and protect region-specific brands.
In June, the government began accepting applications from producers to register farm products which are designated as possessing qualities connected to the climate and other characteristics, including traditional manufacturing methods, of specific geographical origin. The registered products will be specially labeled to indicate they have passed through a strict quality control process and to distinguish them from counterfeit products. Until then, only names for liquor items were listed as geographical indications.
The producers of the newly registered brands said they hope to take advantage of the system to boost sales, strengthen brand and market position and increase exports.
At the certification ceremony held the same day, farm minister Hiroshi Moriyama asked producers to take this opportunity to actively tap overseas markets and play a part in the nation's aggressive agricultural policy to create a strong farm sector.
The seven food items are (in order of registration): Aomori cassis from Aomori Prefecture, Tajima beef from Hyogo Prefecture, Kobe beef from Hyogo, Yubari melons from Hokkaido, "Yame dento hongyokuro" green tea from Fukuoka Prefecture, Edosaki pumpkins from Ibaraki Prefecture and "Kagoshima no Tsubozukuri kurozu" black vinegar from Kagoshima Prefecture.
Haruyuki Kato, head of JA Yubarishi, an agricultural co-op in Yubari, said the registration of Yubari-made melons will encourage young farmers to have better prospects for the future, adding that he hopes it will lead to more exports. Osamu Tamaru, head of JA Inashiki, a farm co-op in Inashiki, Ibaraki, said the registration of Edosaki pumpkins will work as a trigger to invite more beginning farmers and cope with intensifying market competition under the Trans-Pacific Partnership agreement.
Applications for all the seven items were made on the day the government began accepting them, and the registration numbers for the items were allocated in a lottery. More than 40 other applications have already been made so far, waiting for approval. The government plans to hold a meeting of experts once a month to examine the applications and register more items.
More than 100 countries, including European Union members, have introduced geographical indications. The government has filed applications in 20 countries and regions, such as China, Taiwan and Hong Kong which are major importers of Japan-made farm products, to register its GI Mark as a trademark. The farm ministry is working on revising the law on geographical indications so that Japan can agree with other countries to mutually recognize each other's systems.
(Dec. 23, 2015)