Kotaro Yamada
Lamps made out of home-grown gourds by a 41-year-old record shop owner are now popular in Itoshima-shi, Fukuoka Prefecture. The organic lamps cast a warm glow on everything in the room and they are used to decorate a wedding reception venue, for example.
The record shop owner, Osamu Tatsuishi, harvests the gourds in summer and soaks them in water for a while to let the seeds inside go rotten. Then he cleans the seeds and dries the empty shells in the sun. Once the base materials are ready, he starts drawing various pictures with small holes and dots, made by using pushpins and needles. Finally, he installs light fixtures in the shells so that the patterns he created are lit up from the inside. He sometimes curve Japanese Kanji that were adopted from Chinese characters like utage which means a feast, on the surface of the dried gourd lamp. (Referring to an image of Handwritten Kanji)
Tatsuishi grows almost 150 gourds of around ten types every year in the field close to his house. They come in different sizes and shapes and some are used to make gourd speakers.
He started to make the gourd products in 2013 and sells them at his own record shop in Fukuoka-shi, Kalavinka Music. "I fully respect their natural shapes. Looking at them, I feel calm," he said.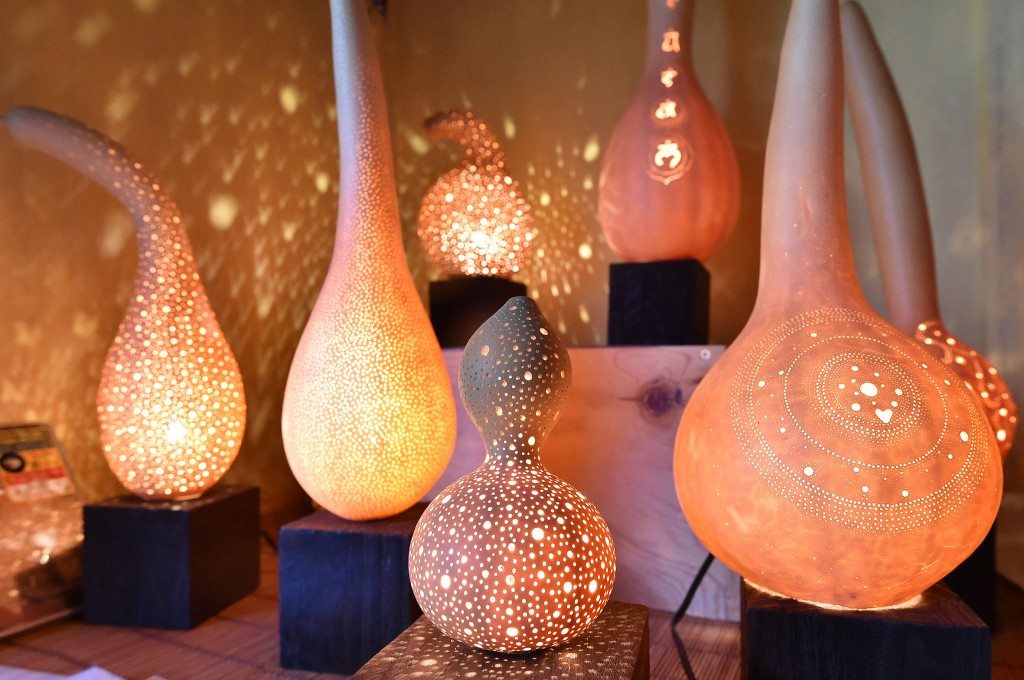 (May 26, 2015)