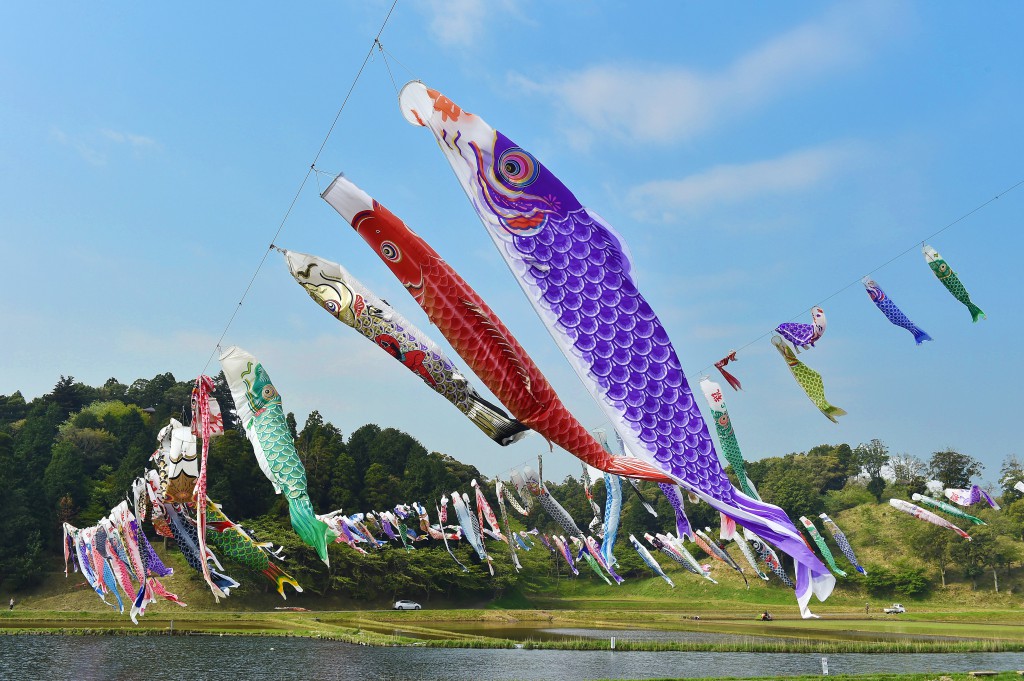 Kotaro Yamada
– Iki-iki Yamada Koinobori Festival (Katori-shi, Chiba Prefecture) –
In late April every year, the village in Katori-shi, Chiba Prefecture, turns colorful with rows of 200 carp-shaped streamers flying over rice paddies and local farmers doing their usual jobs, puddling soil and planting rice. The scene is already one of the early-summer features of the village.
"I feel so good when planting rice sometimes looking up at Koinobori," said Toshihiro Sugaya, 62, as he stopped his hands and smiled. He is a local farmer whose paddies are right under the great Koinobori display.
The villagers of Katori-shi or the village previously called Yamada-cho decorate the area with Koinobori streamers over the rice paddies and a pond surrounded by the paddies. The streamers are tied to three ropes of almost 150 meters long each, which are fastened to trees of the surrounding forests.
The pond was created in the Edo Period to provide water to the rice paddies in one of the famous rice producing villages in Japan. "Our village is already beautiful and rich in nature but it looks even more beautiful with the bright colors of Koinobori," said Sugaya.
Local villagers and residents of Katori-shi donate used Koinobori as the stars in "Ikiiki Yamada Koinobori Festival." Every year, they change some of the streamers to newer ones to keep going with the festival and the 26th Koinobori Festival in 2015 will last until May 8, 2015.
Yoshio Koshikawa, 56, from Japan Agricultural Cooperatives (JA) Katori is one of the donators of the Koinobori on display. "Now we have fewer children and smaller space for displaying Koinobori. I feel great to see them find their place again in the festival and flying happily and lively."