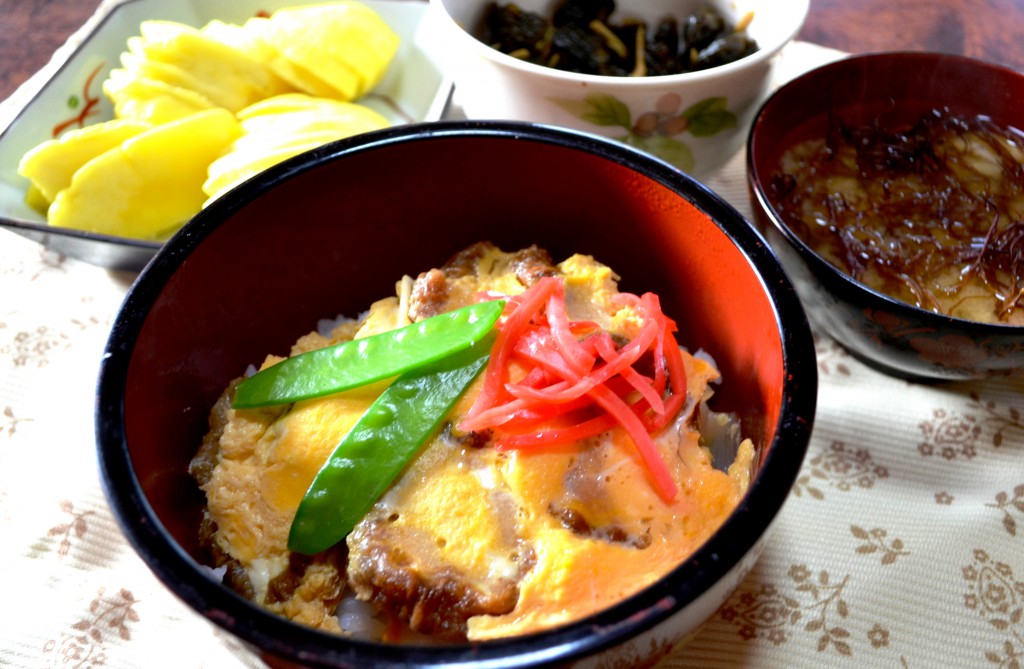 Bowl of rice topped with Abura-fu cooked in mouth-watering sweet-salty soup broth.
Umami-rich Donburi to delight everyone's palate
Abura-fu Donburi is a bowl of rice topped with fried wheat gluten (Abura-fu), onions and eggs cooked together in sweet-salty seasoned soup broth. Now it is well-known as a gourmet dish from Tome-shi, Miyagi Prefecture. The soft creamy egg, sweet-savory onions and juicy wheat gluten match perfectly with white rice and the deep flavor of the broth stimulates your appetite.
Abura-fu is made by deep-frying wheat gluten bars in vegetable oil. It's a traditional local food of Tome-shi and was one of the ingredients for the vegetarian plate that was served during the Japanese Bon season in the Edo Period. It's said that the dish was first cooked, instead of pork cutlet rice bowl, by a woman who owned an inn for a customer who was not fond of meat.
Abura-fu bowl is, however, relatively new cuisine and every family in the area has its own collection of family meal recipes using Abura-fu. "A dish with sauteed Abra-fu and eggplants is also nice. Abura-fu is used for udon noodle bowls or miso soup, too. It just goes well with anything," said a local livestock farmer, Shigako Goto, 66.
In demonstrating how to cook it, she sliced onions in thick pieces and cooked them in the seasoned broth. Then she added thick slices of Abura-fu quickly on top the onions. Then the Abura-fu soon started absorbing the soup and the room was filled with a delicious smell.
Moving cooking chopsticks very quickly, Goto said, "It just goes well with anyone's recipe." Her daughter in law, Emi, smiled and said, "She is the best chef in the family particularly with the local food like this." Goto's grandchild agreed and said, "Grandma's Abura-fu Don is always the best. No one can beat her." Goto served the dish to city junior high schoolers who came to her house for a farm staying program, and they absolutely loved it.
Tome-shi has been promoting Abura-fu Donburi as one of its official local gourmet dishes since 2008, helping it becoming more popular all over Japan.
Recipe for Abura-fu Donburi
■ Ingredients (4 servings)
-2 onions
-400 ml water
-2 tablespoons Japanese sweet cooking rice wine
-Touch of sugar, soy sauce and soup stock powder
-100 ml men-tsuyu (seasoning soy sauce)
-50 grams Abura-fu
-4 eggs
-4 servings of cooked rice
-Some boiled snow peas and red pickled ginger
■ How to cook
1) Slice the onions into thick pieces. Heat the oil in a frying pan and lightly saute the onions. Add water, Japanese sweat cooking rice wine, seasoning soy sauce into the pan and cook on medium heat. Add touch of sugar, soy sauce and soup stock powder, if desired.
2) Place thick slices of Abura-fu on top and cook for another two minutes. Then, turn the heat to low and turn the Abura-fu slices.
3) Add beaten eggs evenly into the skillet and cook until the eggs are about half set.
4) Place one serving of rice into a deep bowl, then remove the Abura-fu and egg mixture from the skillet and place over the rice. Decorate the bowl with cooked snow peas and red pickled ginger.
(Nov. 21, 2014)