The geographical indication law aimed at promoting local agricultural and food brands was passed in the Diet on Wednesday, June 18, and is expected to take effect next fiscal year.
Local agricultural communities welcome the introduction of the system which enables the government to give endorsement on high – quality farm products and food brands and keep control over counterfeits.
In order to facilitate sales of value-added local specialties, it is necessary to make the system well – known among farmers and regional agricultural co-operatives.
GIs are already introduced in the European Union for such products as Prosciutto di Parma, an uncooked, dry-cured ham produced in Parma province, Italy. Under the system, only registered products can bear brand names and governments exercise control over misuse and counterfeiting.
The system to be introduced in Japan is similar to the one in Europe. Before applying for a GI registration, it will be necessary for local producers' associations such as agricultural co-operatives (JA) to establish a quality standard for the product, including its production method, producing area and minimum sugar content, through consultations with producers. Producers' associations such as JAs will be responsible for checking whether products marketed under registered brand names meet the standard, and the government will be responsible for checking their management system.
The government allocated funds necessary to create such standards, and will set up a guideline for applying to register products.
Experts point out that people will have difficulty distinguishing between the new system and the existing regional collective trademark system which allows registration of marks consisting of a regional name and generic name. Currently, some 300 agricultural and food products, such as Hinai-jidori chicken of Akita Prefecture and Kobe beef, are registered under the trademark system.
Under the current system, producers are not obliged to set any criteria to register a product, and only members of the organization which registered the product have the right to use the trademark. But under the GI system, any product which meets the quality standard can bear the brand name.
In order to register as a GI a brand name already registered under the trademark system, it is necessary to obtain permission from the organization which owns the trademark. Organizations which produce trademarked products can choose to register them under the GI system as well, depending on their brand strategy – whether they want to keep the brand names to themselves or share them within the region, according to the Ministry of Agriculture, Forestry and Fisheries.
In order to protect Japan's GIs abroad, the ministry plans to register the government's certification mark under the trademark system of major importing countries of Japanese products. As for countries which have a GI system, the ministry is expected to submit a list of products which need to be protected when they hold trade negotiations.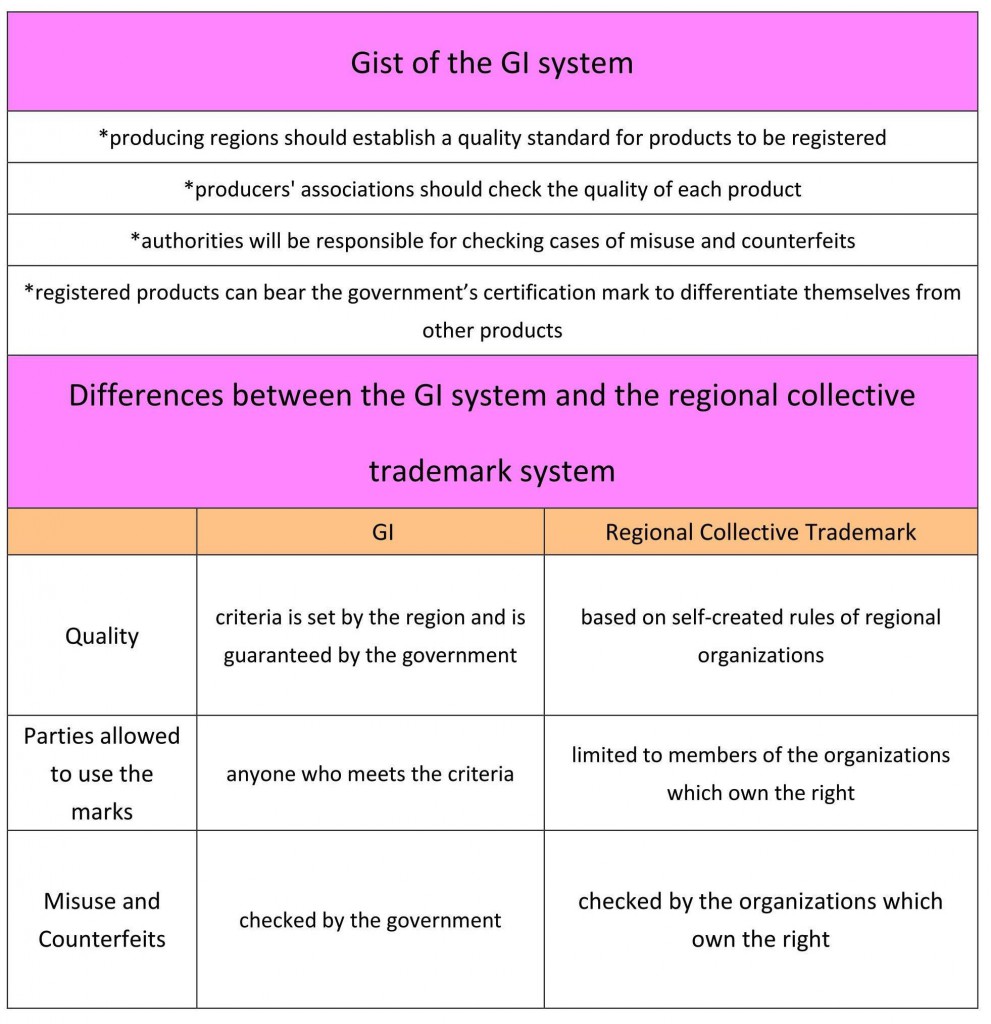 (June 19, 2014)