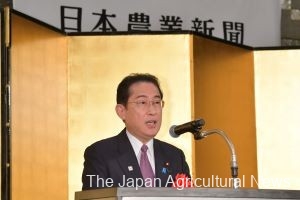 TOKYO, May 12 — Prime Minister Fumio Kishida addressed the fiscal 2023 national conference of The Japan Agricultural News held in Tokyo on May 11 and said the establishment of food supply bases aimed at increasing domestic production will be the pillar of the government's agricultural policy.
Kishida also stressed the need for structural shift to break away from excessive dependence on imports of food and production materials.
The direction of the policies in each field, which will be compiled as early as June for the review of the Basic Law on Food, Agriculture and Rural Areas, will be included in the government's annual basic policies for economic and fiscal management and reform, known as honebuto no hoshin (big-boned policy outline), he said.
He reiterated that the review of the law will be conducted with a view to submit a bill to the Diet by the end of the current fiscal year to revise it.
"We will work on changing agricultural policies so that producers can have hopes for the future," Kishida said.
Specifically, he explained that in addition to having a contingency plan to ensure food supply, the government will aim to create a society in which every person in the country can gain access to food supplies in normal times and enjoy healthy eating.
He pointed out that food security is an issue that needs to be addressed urgently also on a global scale.
As the chair of the Group of Seven summit to be held in Hiroshima between May 19 and 21, Kishida expressed determination to lead the G7's response to global challenges including food security.