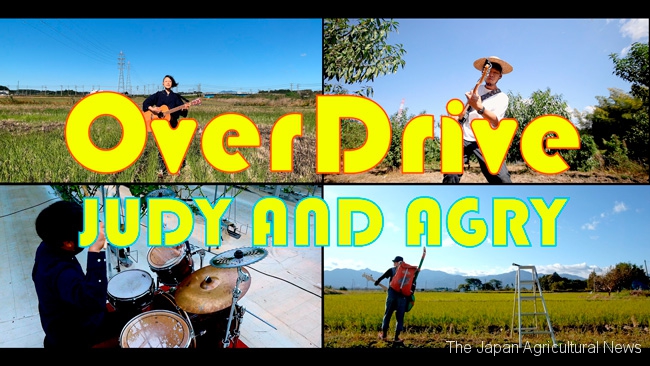 Tokyo, Nov. 9 – Farmers from all over Japan held an online music fest on Twitter, and gathered more than 80,000 views in the first nine days. The farmers posted 29 videos of band performances simultaneously at 10:00 a.m. on October 31, 2021, on the social networking service (SNS). All these movies were filmed in rice paddy fields, farms, and workshops and posted with a hashtag (#農家バンドフェス) for easier searches.
Two young farmers from Mie and Fukuoka Prefectures organized the fest to make the country brighter and more colorful, as many events are being canceled or postponed due to the pandemic. Initially, 15 bands raised their hands to participate, but many decided to join on the day, so it ended up having 29 movies. The number of views is continuously growing, too.
Yuichiro Tsuruta (35), one of the organizers who grow eggplants and fruits in Fukuoka City, Fukuoka Prefecture, said, "More and more people are feeling depressed due to the Covid-19, and I knew some farmers around me feeling the same. I hope people who watched the videos become happier even a little."
The most viewed video was the one filmed by a band of four members, including Tsuruta. They played a song by "Judy and Mary," a popular Japanese band that broke up 20 years ago. The performance recorded in a peach orchard garnered 12,000 views in total by November 8.
Tsuruta plans to hold the same event in October next year. Another organizer, Toshiki Abe (40), who grows cucumbers at a 20-acre field in Yokkaichi City, Mie Prefecture, said, "We want to make it a greater event with a greater audience that includes consumers."