More than 40 percent of Japanese consumers prefer to buy domestically-produced chicken, pork and beef despite relatively high prices, according to a survey released by the Japan-Cooperative General Research Institute on Thursday, March 26.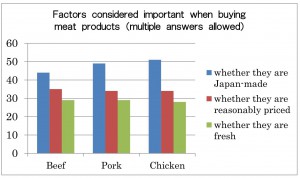 The survey, conducted on 2,178 people nationwide in November over the Internet, asked what factors they care most when purchasing meat products, allowing multiple answers, and the largest number of people responded they make sure the products are domestically-produced. The percentage was highest for chicken with 51 percent, followed by 48 percent for pork and 44 percent for beef.
Although the ratios were 2 to 3 percentage points lower compared with a year before, the institute said the popularity of Japan-made meat remained strong in spite of the fact that prices rose in 2014 due to short supply.
The survey said the second largest number said they choose reasonably priced products, followed by those who said they attach importance to freshness. The trend was the same for all three kinds of meat.
Meanwhile, the number of people who said they can do without imported meat increased from the previous year for all three kinds of meat. The ratio of such people was 40 percent for chicken, up 5 percentage points from a year before, apparently reflecting the expired meat scandal in China which surfaced in July. The ratio was 33 percent for beef, up 1 percentage point, and 33 percent also for pork, up 3 percentage points.
As more people are turning to online cooking websites to refer to recipes, more respondents said they prefer buying specific cuts or parts mentioned in the recipes, or buying packaged products with labels explaining which part is used and how they can be cooked.
(April 3, 2015)