-Re-covering tatami mats of Church' (Amakusa-shi, Kumamoto Prefecture)-
Tetsuya Onda
Sakitsu Catholic Church in Amakusa-shi, Kumamoto Prefecture, is one of a few churches with Tatami flooring inside in Japan. In late February, there were 13 Tatami mat craftsmen working in the church, renewing the Tatami facings as volunteers in what they call "Tatami Dedication" activity. The members of Tatamiya Dojo, a group of Tatami mat craftmen, spent 3 days to renew all 60 Tatami facings.
Tatamiya Dojo was established in 2007, headed by Yoshiaki Kagami, a 43-year-old Tatami artisan from Sagae-shi, Yamagata Prefecture, and joined by 15 Tatami manufacturers nationwide that decided to use only domestic straw matting, particularly those made in Yachiyo-shi, Kumamoto Prefecture, as a material of Tatami. The association dedicates its work to facilities in Kumamoto Prefecture that has a large room with Tatami flooring. Kagami said, "This year again, we could renew the Tatami in the church with the aids of many people. We'd like to keep going to bring attentions to domestic Tatami facing."   The church was constructed in 1934. It has a unique building that mixes western-style white columns and cross vaults and Japanese-style Tatami flooring.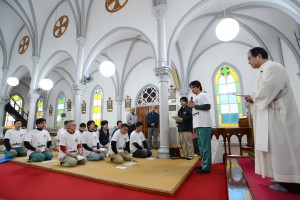 It was for the first time in a decade to renew the Tatami facings in the church. As it's a place for many to gather for masses, the old Tatami mats were discolored and worn out. It rained on the very first day of the work and the craftsmen put their workbench inside the church. When they removed the old facing and changed to new green ones, the room was filled with the beautiful aroma of rush grasses.
The event was observed by some rush grass producers, as well. One of them, Shingo Kojima, who is General Manager of Yatsushiro Chuo Rush Grass Producers Group of JA (Japan Agricultural Cooperatives)Yatsushiro, said while watching the work with an expectant eye, "We hope this will bring attentions of more people to the beauty of domestic rush grass including this nice aroma."
The Sakitsu Village in Amakusa is one of the monuments in "Churches and Christian Sites in Nagasaki" that Kumamoto and Nagasaki prefectures proposed jointly for inscription on the UNESCO World Heritage List.
Many of the villagers are pious Christians. One of them came to the church after the Tatami renewal and said that she is very looking forward to attending a mass on the new green Tatami mats. Takayoshi Watanabe, Head Priest, said with a smile, "People find home in a church. I very much appreciate their kindness."
(March 15, 2015)