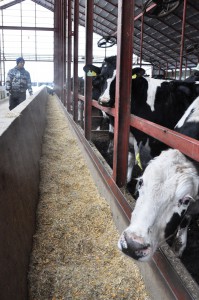 Shingo Oka
Shogo Kamata, 43, who raises 1,700 Holstein steers in Shihoro, Hokkaido, is increasingly worried that the Japanese government might compromise with the United States in the Trans-Pacific Partnership free-trade talks, despite the Diet resolutions which pledge to protect key farm products.
Kamata is concerned because of reports that Japan is considering gradually reducing beef tariff to 9 percent from 38.5 percent in response to the U.S. demand in the bilateral negotiations. Holstein steers will be hit hardest if such tariff cut is implemented, as they compete with imported beef in terms of quality grade. Many fear that the accelerating trend of market liberalization, following the Japan-Australia Economic Partnership Agreement which took effect in January, will cause severe damage to farmers who are already suffering from increasing costs.
Shihoro, located in the Tokachi district, is a major production area of Holstein bulls, occupying 14 percent of total production in Hokkaido. Kamata, who heads the beef promotion association of the town, has been making efforts to appeal directly to consumers in cooperation with other farmers, feed producers and meat dealers. They have been visiting supermarkets in and outside Hokkaido to promote the quality and safety of domestically-produced beef and letting sales managers experience caretaking of cows. Last spring, when negotiations for the Japan-Australia EPA were going on, they campaigned in various places to protect the beef producing region. In June, when agriculture minister Yoshimasa Hayashi visited Hokkaido, Kamata went to see him and explain the high quality of Hokkaido beef and the efforts of farmers to maintain their business.
"We have tried hard, while coping with increasing costs, to convey farmers' voices to consumers," Kamata said. "If the government makes a decision to increase imports, our efforts will be in vain." To him, the progress in the TPP negotiations looks like something that brings their efforts to naught.
Beef cattle breeders are not the only ones worried. Toyozho Matsuoka, head of a plant of a public corporation in Shihoro which processes half of beef produced in the town, says because beef production is the region's main industry, shrinking production would have a serious effect on other related industries including his plant.
Thanks to their promotion efforts and consumers' increasing preference for domestically-produced red beef, consumption of Holstein beef and farmers' gross revenues have improved. However, they say production costs are rising at a higher pace, as prices of compound feed remain high and calf prices are soaring. According to the Agriculture and Livestock Industries Corp., the nationwide average sales price of a Holstein calf was about JPY151,000 without tax in January, up roughly JPY13,000 from a year before and up JPY50,000 from two years ago.
An agricultural co-op in Shintoku, a town with the largest calf production in Tokachi, says the number of farms which produce dairy calves is declining, because uncertain factors such as the weakening yen and the TPP talks are putting more pressure on farmers who have risks expanding business amid rising prices of agricultural materials. More farmers are shifting to F1 crossbred calves which can be produced at lower costs and sold at higher prices, leading to gradual decline of Holstein breeding.
While beef producers are suffering from increasing costs offsetting rise in consumption, dairy farmers are forced to shift their business to sales of calves. If domestically-grown beef cattle market shrinks as a result of tariff cuts and influx of imports, both the beef producers and dairy farmers will fall together.
Nobuyuki Kawamura, head of JA Kushiro Ota, an agricultural co-op located in the dairy farming region in eastern Hokkaido, said dairy farming and cattle breeding are closely linked industries, and the stability of both industries supports farmers and the community. "We can't allow this to collapse because of the TPP," he said, urging the government to keep the Diet resolutions pledging to protect key farm products.
(March 4, 2015)