Following is an interview with International Co-operative Alliance President Pauline Green regarding global trends surrounding co-operatives and the focus of the organization's report on Japan's deregulation expected to be compiled next month. She is a member of an inquiry commission established by the ICA to look into Japan's deregulation.
Q. Co-operatives are generally more vulnerable to risks such as financial crisis compared with private enterprises. In spite of that, governments in many areas are said to be interfering in co-operative activities.
A. This is because co-operatives' presence is getting bigger. Co-operatives have become bigger in size and stronger, thus attracting more attention. We now receive more attention as a result of our efforts to increase our global influence to represent the voices of 1 billion members of co-ops under ICA.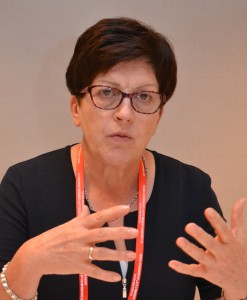 Q. Do you think the recent economic situation is leading the governments to strengthen intervention?
A. The sluggish global economy is one factor behind recent moves. Co-operatives are creating wealth while the overall economy remains weak. But co-operatives seem to appear inefficient to some politicians, and they believe it is better to let private companies take over co-operatives' services. It is true that some of the co-operatives' businesses require more costs compared with private companies, because they are operated democratically and co-operatives' fund management is more cautious. That is why some people think if private companies utilize assets owned by co-operatives, they can make more profits. Some politicians who support private enterprises come up with the idea of letting private companies engage in co-operatives' businesses, forgetting the fact that such businesses are owned by members.
Q. What will the inquiry commission's report focus on?
A. The report will be completed at the meeting of the ICA's board of directors which will be held in Quebec in October. I cannot talk about the contents of the report. I will be writing a part of the report, but the chief writer will be Jean-Louis Bancel, ICA director and President of Credit Cooperatif in France. Two of us will get together with Martin Lowery, Executive Vice President of the National Rural Electric Cooperative Association in the United States, to make final adjustments. We want the board of directors to give the commission authority to make an action when necessary, in cooperation with the Japanese people. I can say that the report will strongly support the business model of co-operatives. The Japanese agricultural co-operative (JA) group has contributed to the Japanese society for decades in terms of food production and improving farmers' lives. I'm sure the report will include how much added value the JA group has provided in line with its goals.
Interviewed by Katsuhiko Hitosugi
(Sept. 18, 2014)