Tetsuya Onda
– Yokkabui (Kinpo-cho, Minamisatsuma, Kagoshima Prefecture) –
On August 22 every year in Takahashi district of Kinpo-cho, Minamisatsuma, Kagoshima Prefecture, Yokkabui Festival takes place to pray for avoiding water accidents. This festival is one of Japan's intangible folk culture assets and has a long history of over 300 years. Its highlight comes when faceless "Ogarappa (big Kappa' or big water imps)" try to catch children.
At around 9:30 in the morning, a bell rang loudly to announce the start of the festival. Then some young male villagers with masks made of palm tree skins and in nightclothes headed for Tamate Shrine from the Community Hall with straw bags in their hands. The young men impersonating the river spirits are also called "Yokkabui" as they wear nightclothes (yogu-kaburi). They walked around the village led by another group of villagers who kept ringing the bell. Making strange "hyo-hyo" voice, Yokkabui tried to catch children and put them in the straw bags. Folklore has it that those who were put in the bags by Yokkabui do not have to worry about water accidents. Children are probably used to watching scaring scenes on video games, but things are little different when they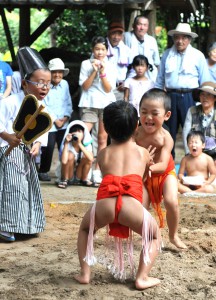 encounter the real monsters. They screamed and ran away from the faceless pursuers desperately. Grownups watched the children with laughter but they also recall how scary the festival was when they were small children. Yokkabui were even wilder back then to stomp inside the house to find hiding children, they say. Naoya Morizono, 25, said he was "very frightened just hearing the sound of the bell." At the shrine, nursery school toddlers impersonating "Kogarappa (small Kappa or small water imps)" did sumo wresting, receiving cheers from the audience.
Hori Rive in the region often caused severe floods on the rice paddles and fields of its surrounding area. There were some accidents with children who stepped into holes and drop-offs in the river. So Yokkabui is telling children how danger it can be to play in the river. A record on the festival is found in a note written in 1695.
(Aug. 31, 2014)