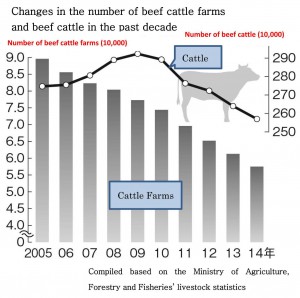 Beef cattle breeders, which have been regarded as a role model for streamlining and farm-size expansion, are recently shaken by a number of challenges, such as rising feed prices and anomalous weather, which cannot be overcome only by their own efforts. As a result, the number of breeders giving up farming is increasing at a higher pace than those expanding their farm size. Many breeders are reducing the number of cattle, and their business sustainability is threatened even more than other farmers. The situation is especially severe for Wagyu beef cattle producers, prompting the government to focus on allocating funds in the next fiscal year for measures to increase the number of cattle and stabilize their business.
Decline in cattle farms accelerates
Although the number of beef cattle farms is declining, the farms have managed to maintain and increase the number of cattle by expanding their size. However, recently the downward trend in the number of farms is accelerating. According to the agriculture ministry statistics, the number of beef cattle farms dropped below 80,000 in 2009, and reached 57,500 in 2014, only about 3 percent of 2.031 million marked in the peak year of 1960.
The rise in the number of cattle breeders giving up their business is attributable mainly to the rising prices of feed, which occupies roughly half of production costs. Formula feed, which is indispensable for raising beef cattle, is made of imported grains such as corn and is largely affected by currency movements and weather conditions of exporting countries.
In recent years, risks of feed price volatility are increasing amid weakening yen and frequent occurrence of droughts. Prices of formula feed are staying at record high levels of above JPY60,000 per ton. Many predict the supply-demand balance will continue to remain tight in the medium to long term, considering the rising demand in emerging markets such as China. The government grants compensation payment to farmers to make up for rising mixed feed prices, but there are limits to the system.
The farmers are also hit by the lingering effects of the domestic outbreak of foot-and-mouth disease in 2010, the Great East Japan Earthquake in 2011 and the Fukushima No. 1 nuclear power plant disaster, which killed many of their livestock and forced many of them to quit farming.
Along with the increasing number of farmers who quit cattle breeding, the number of cattle which was maintained by farm size expansion started declining in 2009. Since vast amount of investment is required to build new barns, more cattle breeders are beginning to think farm-size expansion has reached its peak. Concerns over the prospects of the Trans-Pacific Partnership free-trade negotiations are making them even more cautious about making further investments.
High calf prices hitting hard on both cattle breeding and fattening
Business environment is harsh especially for Wagyu beef calf breeders. According to the Agriculture & Livestock Industries Corp., the number of Wagyu beef calves marketed nationwide in 2013 was down 2 percent from the previous year, and 9 percent lower compared with 2009 before the outbreak of the foot-and-mouth disease.
Considering the process from conception to marketing, it takes a few years to increase the number of cattle considerably. Supportive measures should be taken from a long-term viewpoint.
Those engaged in purchasing and fattening calves are also in a difficult situation, as calf prices are rising further along with the drop in the number of calves. Marketing price of calves soared above JPY500,000 last September and has maintained the record high level since then.
Meanwhile, beef carcass prices which directly link to farmers' profits remained roughly the same as the year before, resulting in some farms operating in the red with production expenses surpassing gross farm income.
Moreover, the impact of rising calf prices is expected to hit harder in the future. Considering that it takes about 20 months to fatten Wagyu beef cattle, cattle currently marketed by calf fattening farms are likely to be those purchased at a price of little more than JPY400,000 a calf, and sales of fattened cattle purchased at a price of JPY500,000 or more is yet to come.
If cattle fattening farms operate constantly below the break-even point and start having difficulty managing their business, cattle breeders will also lose the customers who purchase their calves. In the worst case, both cattle breeding and fattening could end up going under together.
Drastic measures necessary to increase the number of cattle
The Ministry of Agriculture, Forestry and Fisheries is currently working on revising the basic long-term policy for dairy farming and livestock breeding. As for beef production, the biggest issue at hand is how to tackle with weakening foundation of beef cattle breeding.
The current policy compiled in 2010 sets a target of slightly increasing the number of beef cattle to 2.96 million in fiscal 2020. However, the figure was 2.64 million in fiscal 2012, largely below the target, making it evident that the situation is serious.
To cope with the situation, the ministry believes it is necessary to take measures to facilitate new entries into cattle breeding and support efforts to increase high-quality breeding cows and strengthen cattle breeding business. Since the drop in the number of dairy breed cattle used for meat production is especially large, the ministry is considering taking the measures in a package with those for dairy farming. It is also focusing on establishing a system in which the whole community can work cooperatively to improve cattle farmers' profitability and promote new entries.
The ministry's budget requests for the next fiscal year will also be the key to boosting beef production. The ministry is focusing on strengthening competitiveness of dairy and livestock farming as one of the priority policies. It plans to include in the budgetary requests such measures as supporting new farmers and those taking over business from farmers who quit, and adopting modern breeding techniques such as Wagyu embryo transplants and use of sexed semen. The ministry hopes to allocate more funds for the measures.
Concerns over sustainability of beef production are growing among the ruling Liberal Democratic Party as well. "Japan's livestock sector will collapse unless drastic measures are taken," one LDP lawmaker close to the agriculture industry said. There is an urgent need to take full-fledged measures to maintain and reinforce livestock production.
(Aug. 26, 2014)