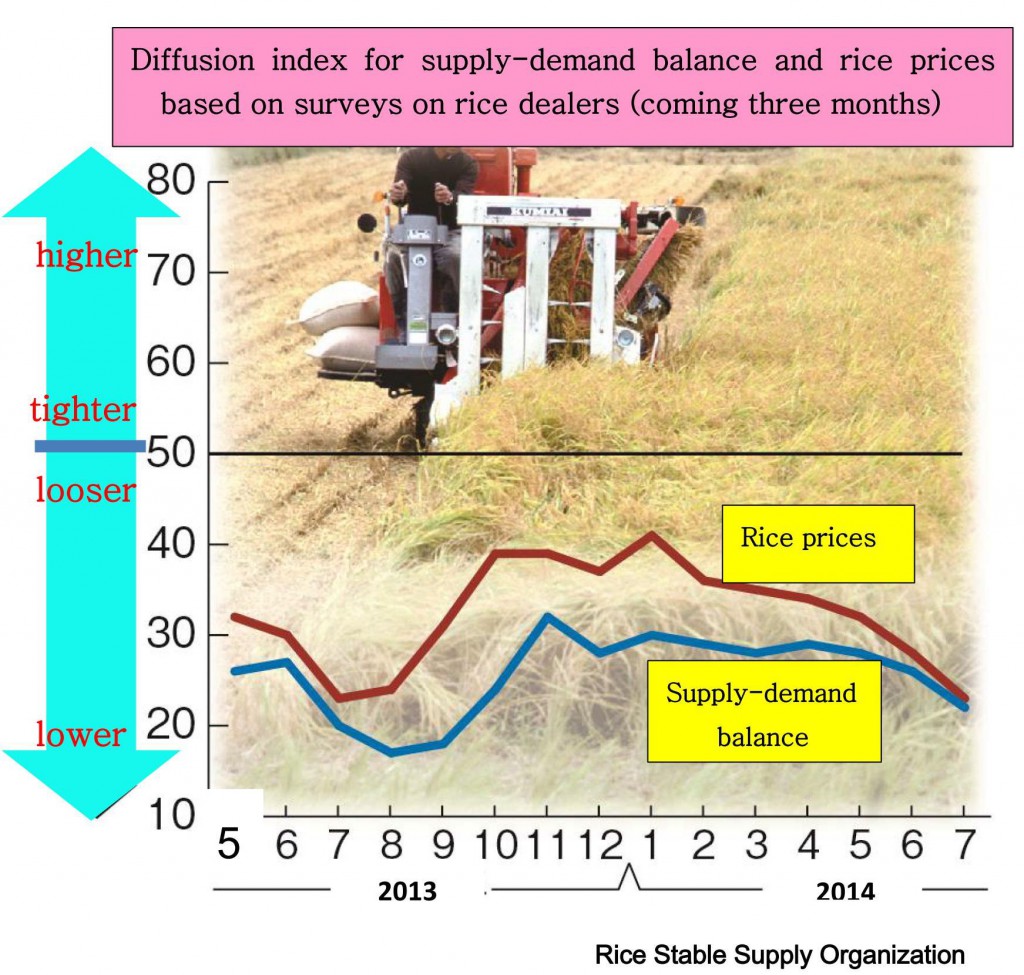 Concerns among rice dealers are growing over possible price declines after the harvest season, with some of them saying that rice wholesalers will not be able to survive unless measures to boost rice consumption are taken.
According to a survey by the Rice Stable Supply Support Organization released Thursday, Aug. 7, more rice traders think the supply-demand balance for rice will loosen in the coming three months, as the harvesting season nears.
The diffusion index for rice prices and supply-demand balance for August, September and October marked 23, the lowest since the organization began compiling the data in March 2012. The figure is down 5 points from the previous month, declining for six months in a row. The index posts 50 if the prospects remain flat from the previous month, and the figure will approach zero if more rice dealers predict that rice prices will be lower and supply-demand balance loosens.
The index for supply-demand balance was 22, down 4 points from a month before, as traders predicted the balance would loosen. The index marked drops for three consecutive months, maintaining the level of no more than 30 since the beginning of this year.
As a reason for making such prospects, the largest percentage of rice traders – 38 percent – pointed to the extremely high inventory levels. Private-sector inventories as of the end of June were as high as 2.22 million tons.
34 percent or the second largest percentage of respondents noted the availability of necessary brands. The third largest proportion of respondents – 13 percent, up 11 percentage points from a year before – gave favorable crop prospects as a reason, as many traders are watching the yields closely as a factor which affects supply-demand situations after the harvesting season.
The survey was conducted on 145 rice producers, wholesalers and retailers, based on trading conditions during the period between July 1 and 25. 122 parties responded.
A wholesaler in the Kanto region said rice consumption is unlikely to recover even if the retail prices go down further. Another wholesaler from the Kansai region expressed worries over whether rice farmers will continue production next year. "If the situation is left as is, the whole rice wholesalers industry will not be able to maintain itself," the wholesaler said.
(Aug. 8, 2014)