<Prominent economic critic Katsuto Uchihashi offers his views on the self-reform of the Japan Agricultural Co-operatives (JA) group in an interview with Masayuki Sasaki of The Japan Agricultural News.>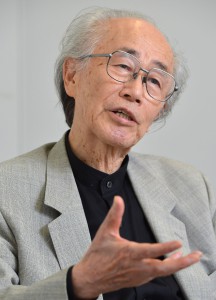 In the United Nations International Year of Co-operatives in 2012, Japanese co-operatives worked under the slogan of "Creating a better society." Now they should think anew what they mean by "a better society."
While strongly opposing the Japanese government's participation in the Trans-Pacific Partnership free-trade talks, the JA group has recommended and supported candidates from the ruling Liberal Democratic Party, letting them win the election and come to power. However, the administration of Prime Minister Shinzo Abe advocates the ideology of neoliberalistic reform and globalization, and represents the benefits of what I call the "competitive sector" which escalates gaps, conflicts and competition.
Then, what is "a better society" which we should aim for? It is the society where people can lead decent lives, where people can provide for themselves food, energy and health care. In order to build a community self-sufficient in food, energy and health care, it is inevitable for JA to cooperate with non-farmer members and residents. As an organization rooted in regional communities, JA has the responsibility to work together with the communities and offer comprehensive services.
As a representative of the committee for the International Year of Co-operatives, I noted in my closing remarks in March last year that the next target of neoliberalistic reform after postal reform would be reforming the JA group and the Central Union of Agricultural Co-operatives (JA-Zenchu). Unfortunately, my prediction has become a reality. A full-scale drive for deregulation aimed at breaking up co-operatives will start from now on.
Why are neoliberalists hostile to co-operatives? In market-oriented neoliberalism, business chances for profit-seeking monetarists will increase, but a co-operative economy based on the principle of participation, cooperation and coexistence means less business chances and more risks of shrinking markets for monetarists. That is why they are particularly harsh on co-operatives and try to reduce the power of the JA group by breaking up JA-Zenchu or stripping it of its authority to supervise primary co-operatives.
Neoliberalists will continue to try to split up the JA group by driving them into conflicts and competition. But the JA group has maintained social protection of communities through its comprehensive business. It is the JA's structure centered on JA-Zenchu which has prevented gaps among communities from widening.
Now is the time for co-operatives to play its essential role of confronting direct attacks by capitalists and think how to rebuild a better society. It is necessary for them to come up with a self-reform plan which clearly demonstrates the role and mission of co-operatives centered on their members.
Both JA-Zenchu and the National Federation of Agricultural Co-operative Associations (JA Zen-Noh) must review their roles by going back to basics and strengthen their support for primary co-operatives. They should balance between business activities and campaigning activities, and pave the way for a society which places top priority on valuing people. In order to do so, they should construct systematic logics on why JA-Zenchu is necessary and conduct campaigns which appeal to the public. They must let people know that JAs have contributed greatly to improving social welfare.
We must quickly build a trend of thought to stand up to this critical phase. We should not be swayed by hotheaded idealism or easy compromises.
(July 15, 2014)