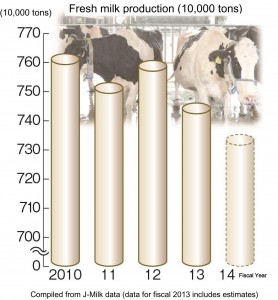 Fresh milk production for fiscal 2014 is predicted to drop 1.5 percent from the previous year to 7.354 million tons, the Japan Dairy Association (J-Milk) announced Thursday, Jan. 23.
According to the association's supply-demand forecasts, demand for domestically-produced milk is expected to stay flat, which means there would be a supply shortage. The association is seriously concerned that demand could slow down due to unstable availability, and stressed the need to work on increasing production.
The estimated drop in production reflects the decrease in the number of milk cows. The association says the production might increase by 0.5 to 1 percentage point from the original forecast, supported by government's supply-boosting measures.
Still, the association warned that a supply shortage would be unavoidable, predicting the demand for domestically-produced milk will exceed supply by more than 100,000 tons. The association said measures should be taken to expand production, such as through encouraging entries by new farmers and finding farmers to take over the cows from those who retire from dairy farming.
While the association forecasts milk production will decline in fiscal 2014, it predicts that production of milk-based beverages, which are relatively cheaper than milk, will rise 0.2 percent. Output of yoghurt which is gaining popularity is predicted to rise 2.5 percent, maintaining stable growth. The association said it is necessary to keep an eye on the effects of the price increases implemented last October and the sales tax hike scheduled in April.
As for dairy products, the amount of milk which will be processed for cheese and fresh cream is predicted to stay flat from the previous year. Skimmed milk powder stocks at the end of fiscal 2014 is estimated to be 40,400 tons – equivalent to 3.4 months' market demand -, 17.3 percent lower than a year before, as consumption is likely to increase while supply drops. Stocks for butter, whose consumption is also estimated to exceed supply, will mark a 22.9 percent year-on-year decline to total 17,900 tons – equivalent to 3.0 months' market demand – in the end of fiscal 2014, according to the forecast.
(Jan. 24, 2014)