Senior Staff Writer, Masaru Yamada
The Ministry of Agriculture, Forestry and Fisheries aims to implement strict rules on geographical indications (GIs) to protect the interests of both consumers and producers of high-quality local specialties from counterfeits.
According to the bill on GIs which the ministry plans to submit to the ordinary Diet session scheduled to start on Jan. 24, a third-party institution will be established to regularly check products registered as originating in particular regions, and the ministry will take corrective action if misrepresentation cases are found.
As the United States has been reluctant to accept the introduction of GIs, the ministry plans to stipulate rules to disclose GI registration applications and allow other parties at home and abroad to file objections.
The ministry is currently making final adjustments to the bill by accepting opinions from other ministries and also from other countries by making an announcement to the World Trade Organization.
The bill, designed to take necessary measures to protect and certify farm items produced in regions with tradition and reputation, is aimed at benefiting not only farmers but Japanese people as a whole. The system is subject to agriculture, forestry and fisheries products including fresh and processed food items and beverages, excluding alcoholic drinks and medicines.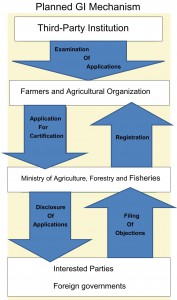 Under the planned system, farmers and agricultural organizations will apply for GI certification, which will be disclosed to the public. The ministry will accept objections from other parties and register the products after examining whether they meet certain quality standards. The products should be checked regularly by a third-party institution after they are registered.
Although the bill states that corrective action will be taken against cases of GI misrepresentation, the ministry is yet to decide on whether to impose penalties such as a sentence of imprisonment, as is the case for misrepresentation of place of origin under the Japanese Agricultural Standard (JAS) Law.
(Jan. 18, 2014)